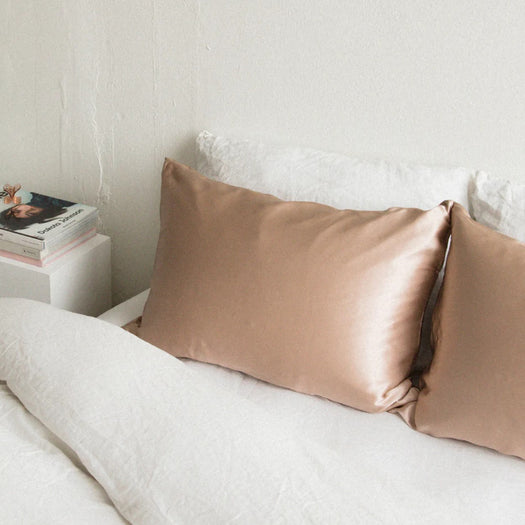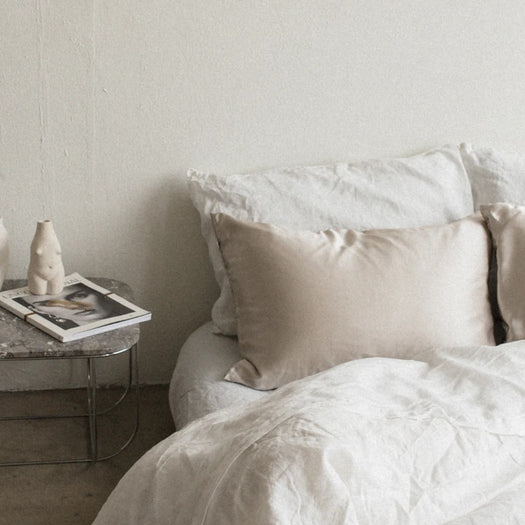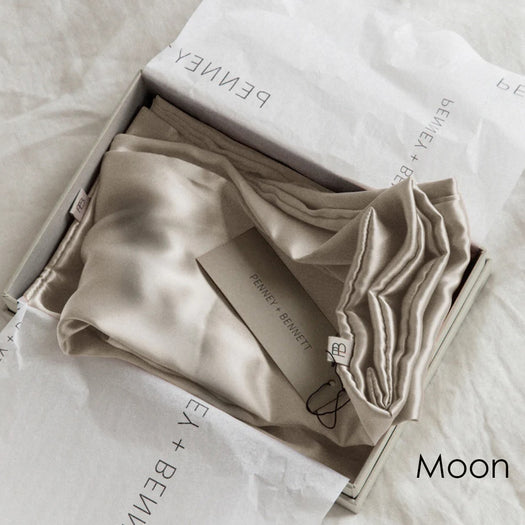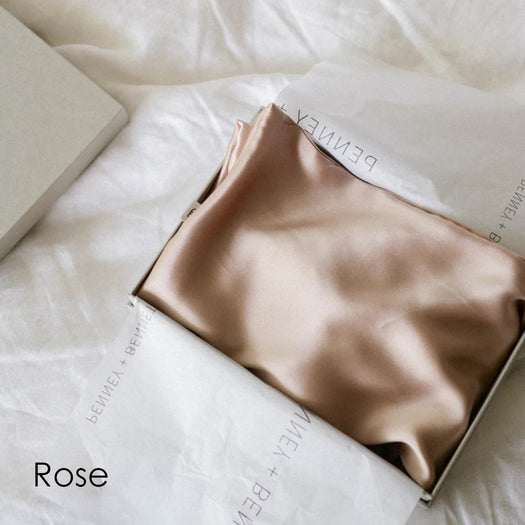 Description

Shipping

Contact Us
The perfect accompaniment to your skin and hair care regimen. Your skin will stay smooth and hair soft while you sleep.
Penney + Bennett's Beauty Pillow® helps keep moisture close to skin and hair and will help skin and hair stay more hydrated, minimising sleep creases and pressure on delicate facial skin. Reducing friction on the hair prevents bed hair, dryness and damage to hair follicles and hair extensions.
These come as SINGLE pillowslips - please add two to your cart for them to come as a pair.
48 x 72cm, with an invisible zip closure. Fits a standard pillow insert.
Hand wash with gentle detergent, air dry in shade.
Responsibly sourced 100% mulberry silk.
Treated with non-toxic inks, free from heavy metals, formaldehyde and aromatic solvents.
Ethically made in a local factory in Auckland, NZ. By supporting local makers, P+B knows they are treated respectfully, paid a living wage and work in a safe environment.
Comes in an acid free tissue, box and sleeve packaging that are made from FSC certified papers and are fully recyclable. 
Hand wash cold, lay flat or hang to dry.
We use Canada Post or UPS for all orders within Canada and Canada Post for orders going to the US. International orders are subject to local Duties/Taxes upon delivery. Orders within Canada and the USA are expected to be delivered within 7 business days; Fieldstudy is not responsible for delays at Customs.

$15 Shipping within Canada
$24 Shipping to the USA
$65 International Shipping (outside North America)
Free Shipping in North America for all orders above $250.
Free shipping in North America on orders over $250