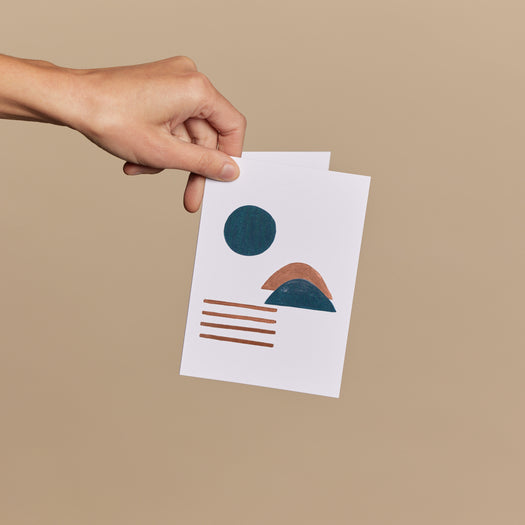 Land - Natural Gouache Art Print Greeting Card
Description

Shipping

Contact Us
'Land' is an imaginative landscape painting by natural pigment artist Ginni Seehagel based on nature's shapes abstracted. Original artwork rendered in natural gouache mulled by the artist using collected plants and minerals grown around her on the west coast of Canada.
Item & Shipping Details:
This listing is for one greeting card featuring 'Land' printed on a sturdy mid-weight card with a soft matte finish. Card size is 4 x 5.75 inches and comes with a blank white envelope. Right inside and back of the card is left blank. Left inside corner contains a small handwritten artist signature and title of the artwork.
We use Canada Post or UPS for all orders within Canada and Canada Post for orders going to the US. International orders are subject to local Duties/Taxes upon delivery. Orders within Canada and the USA are expected to be delivered within 7 business days; Fieldstudy is not responsible for delays at Customs.

$15 Shipping within Canada
$24 Shipping to the USA
$65 International Shipping (outside North America)
Free Shipping in North America for all orders above $250.
Free shipping in North America on orders over $250