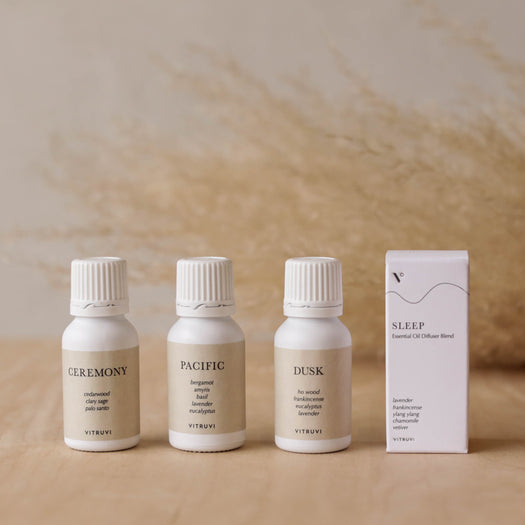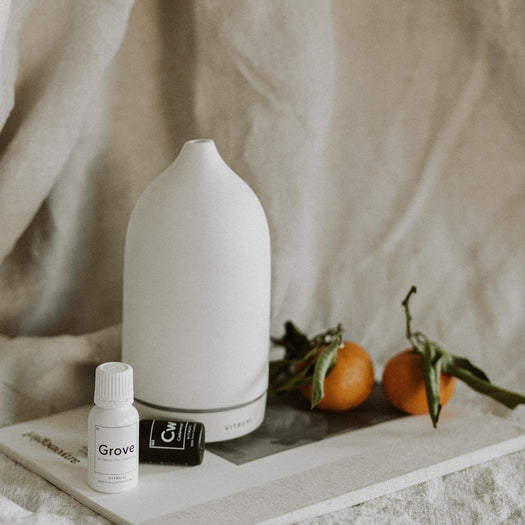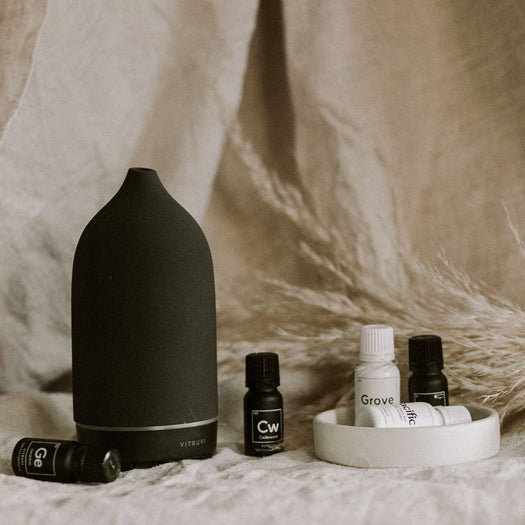 Vitruvi Essential Oil Blends
Description

Shipping

Contact Us
100% pure, non-toxic, vegan and cruelty-free essential oils. Free from synthetic fragrance, sulfates, parabens, formaldehydes, phthalates and mineral oil. 
15 mL 
Boost is juicy and light. Blended with Bergamot, Grapefruit, Juniper, and Lime, it's inspired by fresh citrus and the feeling of sun on your skin.
Breathe is minty and cooling. Blended with Peppermint, Cajeput, Eucalyptus, and Tea Tree, it's inspired by menthol balms and deep inhales.
Dusk is herbal and warm. Blended with Ho Wood, Frankincense, Eucalyptus, and Lavender, it's inspired by moonlit walks in the desert.
Golden is bright and cozy. Blended with Grapefruit, Lavender, Peppermint, and Ginger, it's inspired by the feeling of basking in sunlight.
Grassland is verdant and fresh. With top notes of Petitgrain and Clary Sage and a bottom note of Caraway, it smells like wide open fields.
Grove is woodsy and fresh. Blended with Fir, Spruce, Pine, and Cedarwood, it's inspired by rainy hikes through the forest.
Legacy is grounding and balanced. With top notes of Rose and Bergamot and bottom notes of Frankincense and Cedarwood, it smells like the warmest welcome.
Moonbeam is floral and sensual. With top notes of Wild Orange, Rose, and Jasmine and a bottom note of Ho Wood, it's inspired by fragrant gardens dripping with fresh rain.
Nightcap is spicy and warm with a punch of citrus. Blended with Black Pepper, Blood Orange, and Ginger, it smells like a zesty cocktail in a candlelit bar.
Pacific is herbal and refreshing. Blended with Bergamot, Amyris, Basil, Lavender, and Eucalyptus, it's inspired by ocean waves and bonfires with friends.
Sleep is soothing and powdery. With top notes of Lavender and Ylang Ylang and bottom notes of Roman Chamomile and Vetiver, it smells like sheets fresh out of the dryer.
Slow Dance is grounding and woodsy. With a top note of Fir and bottom notes of Cedarwood and Pine, it smells like watching the snowfall from your forest cabin. You're all together at last, and everything is just how it's meant to be. This item ships without a box.
We use Canada Post or UPS for all orders within Canada and Canada Post for orders going to the US. International orders are subject to local Duties/Taxes upon delivery. Orders within Canada and the USA are expected to be delivered within 7 business days; Fieldstudy is not responsible for delays at Customs.

$15 Shipping within Canada
$24 Shipping to the USA
$65 International Shipping (outside North America)
Free Shipping in North America for all orders above $250.
Free shipping in North America on orders over $250