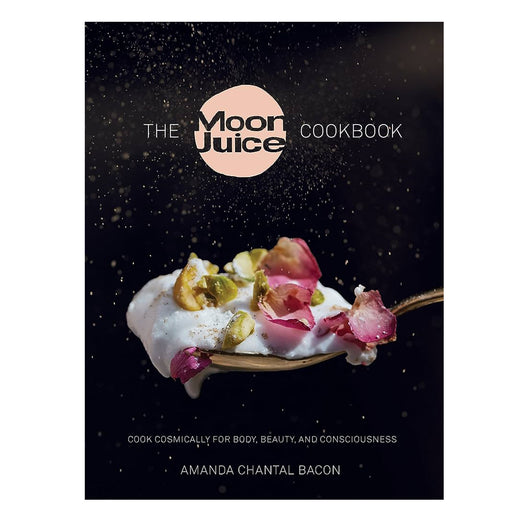 Description

Shipping

Contact Us
75+ Recipes For Healing Beverages & Provisions
The Moon Juice Cookbook distills Amanda Chantal Bacon's powerful approach to healthy living, with over 75 of her most popular healing beverages and provisions. These recipes harness the healing properties of adaptogenic herbs, raw foods, and alkalizing ingredients to create potent drinks, snacks, and sweets that deliver a multitude of benefits, including sparked libido, glowing skin, and boosted immunity.
It begins by guiding readers through the fundamentals of the Moon Juice kitchen, teaching them how to stock the larder with milks, juices, cultured foods, and "unbakery" doughs and crèmes -- all of which can be mixed and matched to create nutritionally turbo-charged meals with minimal effort -- and the essential time - and money-saving strategies they'll need to make their new kitchen practices stick. Includes recipes for Strawberry Rose Geranium Bars, Hot Sex Milk, Savory Tart with Cheese and Tomato Filling, Pulp Brownies with Salted Caramel Sauce, Yam Julius Milk, and Chocolate Chaga Donuts.
We use Canada Post or UPS for all orders within Canada and Canada Post for orders going to the US. International orders are subject to local Duties/Taxes upon delivery. Orders within Canada and the USA are expected to be delivered within 7 business days; Fieldstudy is not responsible for delays at Customs.

$15 Shipping within Canada
$24 Shipping to the USA
$65 International Shipping (outside North America)
Free Shipping in North America for all orders above $250.
Free shipping in North America on orders over $250