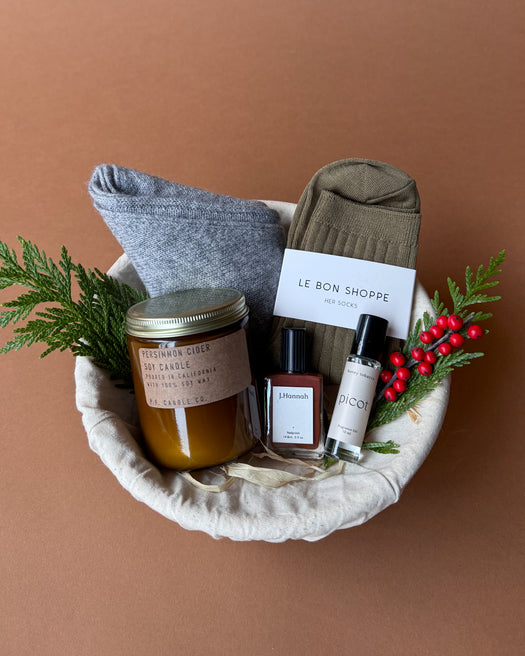 Description

Shipping

Contact Us
All our favorite stocking stuffers we love to give and receive! 
Picot Honey Tobacco Roll on Perfume
12.5 oz soy P.F. Candle 
Her Sock by Le Bon Shoppe
Nail Enamel by J.Hannah 
Skinny Scarf by Le Bon Shoppe
Save ~ Bundles are 10% off asking price! Value $189 CAD.
If you would like a particular color or scent, please specify in messages at checkout. If not, we will choose our favorite! Items in this bundle with color/scent choices are the candle, socks, nail enamel and bandana.
Items come wrapped in our terracotta tissue and fabric gift bags. Please let us know if you would like to add a note.
We use Canada Post or UPS for all orders within Canada and Canada Post for orders going to the US. International orders are subject to local Duties/Taxes upon delivery. Orders within Canada and the USA are expected to be delivered within 7 business days; Fieldstudy is not responsible for delays at Customs.

$15 Shipping within Canada
$24 Shipping to the USA
$65 International Shipping (outside North America)
Free Shipping in North America for all orders above $250.
Free shipping in North America on orders over $250